In Memory of Kevin Hegarty – Time to do something!
I am sure I am not the only one… but, It has taken me a number of weeks to comprehend the loss of Surrey Fire Fighter, Kevin Hegarty. I have had moments of overwhelming grief when all of a sudden Kevin comes to mind and I am overcome knowing that he was in such turmoil and didn't get the help he needed. There is one memory of Kevin that continues to come back to me… It was our first FireFit Event in 1995. The Place, Lantzville, the first FireFit BC Regional. Kevin and his team of Richie Pasqua, Mike McNamara and Andrew Piggott were young Volunteer FireFighters with the City of Surrey and eager to compete. The picture that keeps coming back to me is Kevin holding my 1 year old son Connor, as he watched over his team mate Andrew who was recovering in the Medical Area after a rough race. Kevin stayed with Drew, making sure he was ok and giving him some light hearted ribbing as my son Connor fell asleep in Kevin's arms. It was such a sweet moment and Kevin was true to form, taking care of those that needed help, including my little son who needed a cuddle and arms to fall asleep in.
When I heard of Kevin's passing and its circumstances all I could think about was that picture. I searched for it high and low as I knew it was somewhere in my house! I have been haunted by the thought of this photo and not being able to find it… and today I found it! Actually I found 3 moments captured in time.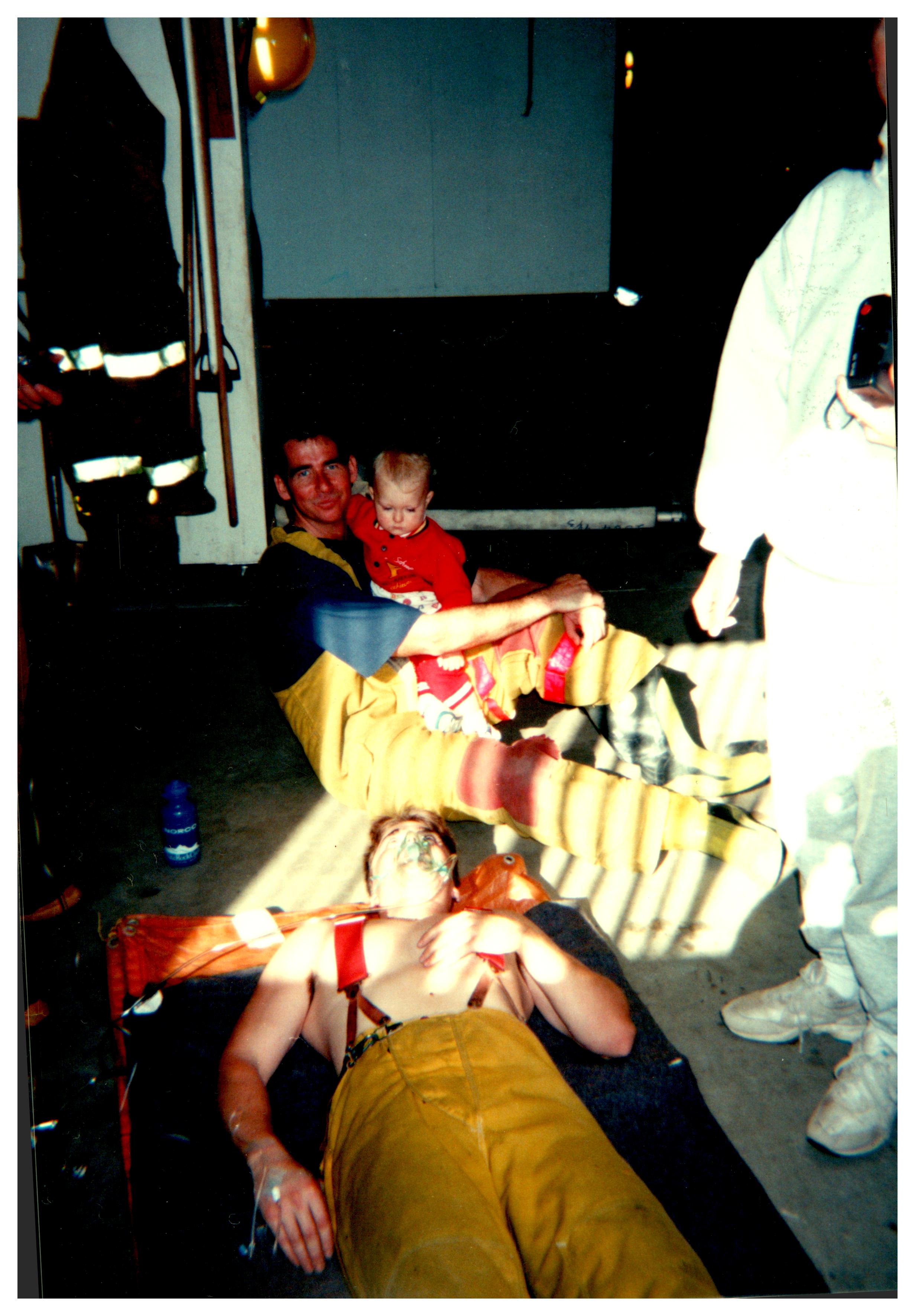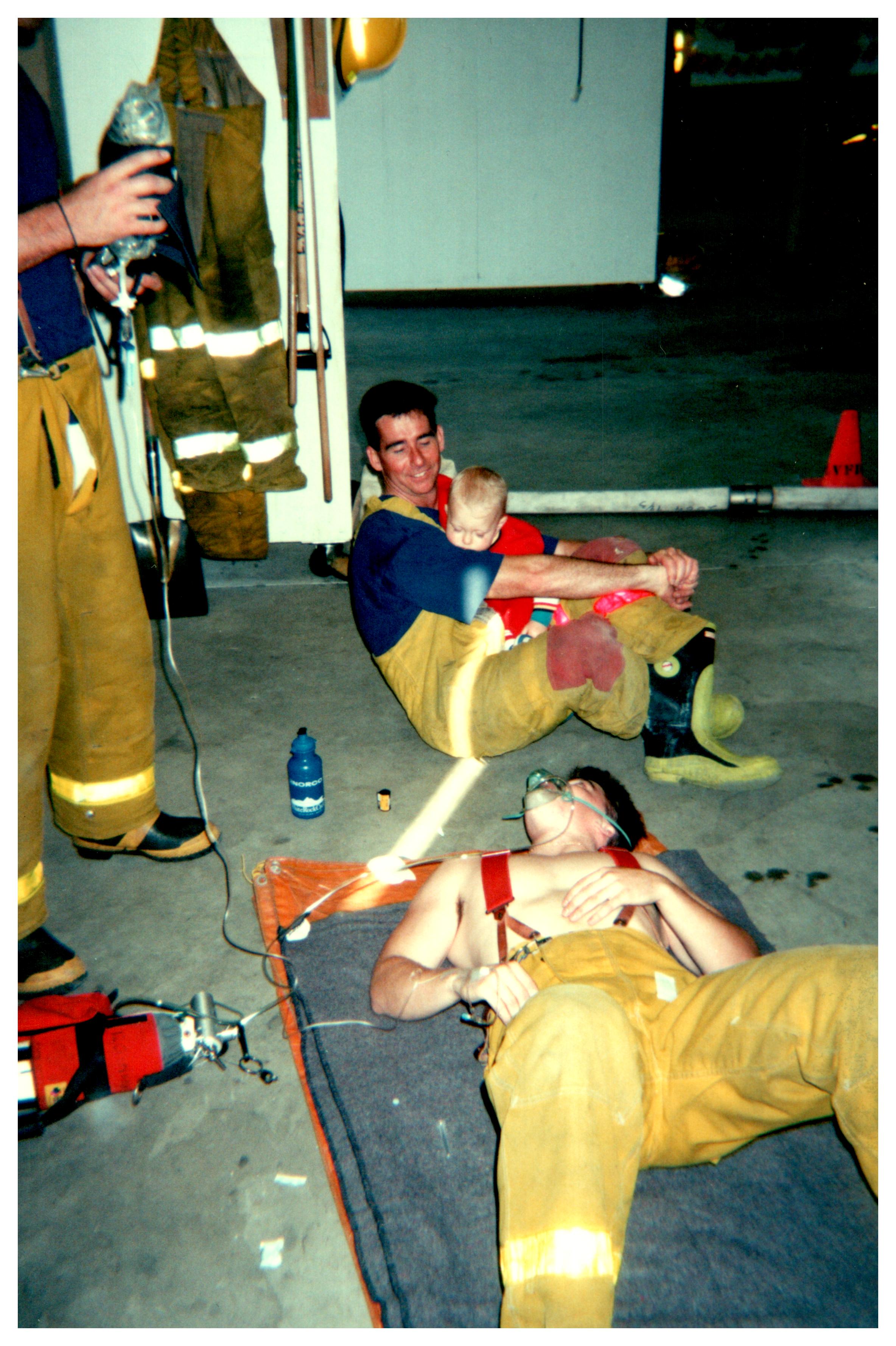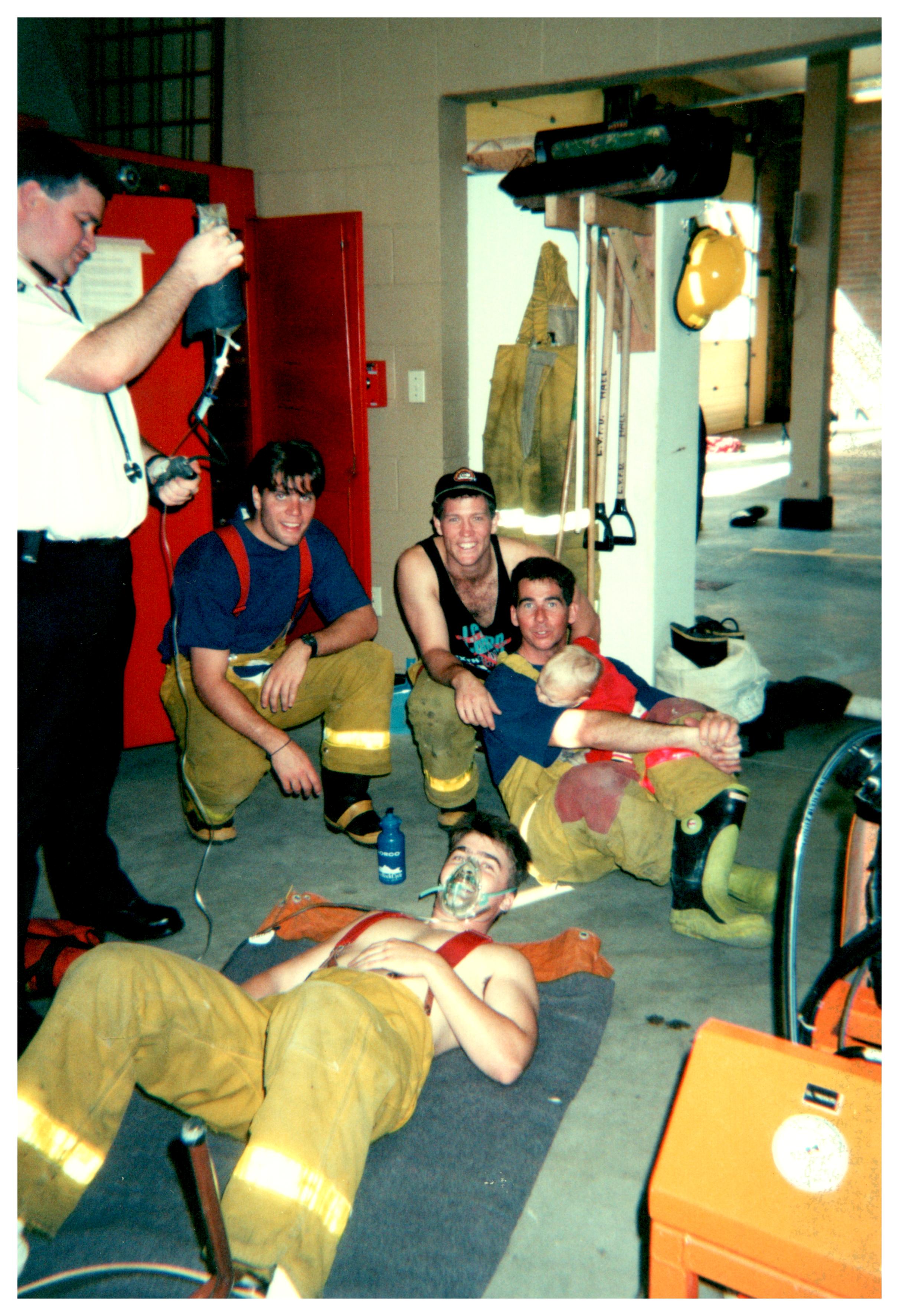 We met Kevin in 1994, when he was a Volunteer Fire Fighter with the City of Surrey. A young, exuberant, full of piss and vinegar young man who just wanted to be a firefighter… fight fires and save lives! Kevin was part of a Team that lead the way for, at the time 12 Surrey Volunteer FireFit Teams , or what was known back then as Combat Teams. His team was fit, fast, young and hardworking. They were ready to participate and be part of the firefighting community and all hoped to become full time firefighters. This dream came true for Kevin and his team in 1995 when they were picked to take part in Class 2 of the Justice Institutes Fire Service Training Program. Kevin, Mike & Richie all entered the program together and all became Surrey Fire Fighters. For nearly 20 years Kevin served the City of Surrey and its residents. Kevin became an Acting Captain but also assisting with the Surrey Fire Fighters Charitable Society, BC Burn Fund and advocating for mental health after experiencing his own struggles with PTSD. Unfortunately Kevin lost his battle with PTSD and this is what brought many of us together on March 30th at his memorial.
It was the sight of so many of our past and present FireFit Competitors and the knowledge of Kevin's struggle that made me realize how vulnerable even the strongest and fittest can be. I feel the need to do something to protect these men and women who every day put their lives on the line for their communities. As chance may have it, we have been given an opportunity to do just that, to avenge the loss of Kevin. On May 23rd & 24th the Vancouver Firefighters' Charitable Society (VFCS) will host a FireFit Event in downtown Vancouver, they have put together a charity event that will raise funds for the creation of a pioneering First Responder PTSD Program at VGH Hospital. Here is the chance we need to do something to support our First Responders who come to us in our times of need. Now we can help them and their families so that they don't have to suffer silently or on their own and hopefully we can prevent what happened to Kevin.
Please spread the word about this Event.



How you can Help!
Enter a Team in Memory of someone who suffered with PTSD
Support one of the teams by making a donation
Come out to the Event and cheer on the teams and make a donation in person (May 23rd)
For more information check out FireFit for PTSD Challenge.
Donation Website: http://chim.pn/1BVsNGm
Or Contact Nils Gorseth, Executive Director VFCS
Email: charitable@iaff18.org or Mobile: 604.362.4042
Posted by Hilary McRoberts
On April 28, 2015
0 Comments